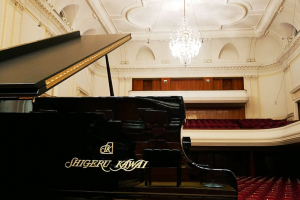 Italian/Slovenian pianist Alexander Gadjiev has been awarded the 2nd prize at the 18th Chopin International Piano Competition held in Warsaw, Poland from October 3rd~20th 2021, following a series of performances playing the Shigeru Kawai SK-EX full concert grand piano. Canadian pianist J J Jun Li Bui, who also selected the SK-EX for the duration of the competition, has been awarded the 6th prize.
Held every five years, the Chopin International is one of the world's most prestigious piano competitions, attracting prominent pianists from all four corners of the globe.  In addition to prize winners Alexander Gadjiev and J J Jun Li Bui, South Korean pianist Hyuk Lee also performed in the final using the Shigeru Kawai SK-EX.
18th Chopin International Piano Competition: Final Results

1st Prize
Bruce (Xiaoyu) Liu
Canada
2nd Prize
Alexander Gadjiev
Italy/Slovenia
Shigeru Kawai SK-EX
Kyohei Sorita
Japan
3rd Prize
Martin Garcia Garcia
Spain
4th Prize
Aimi Kobayashi
Japan
Jakub Kuszlik
Poland
5th Prize
Leonora Armellini
Italy
6th Prize
J J Jun Li Bui
Canada
Shigeru Kawai SK-EX
Finalist
Kamil Pacholec
Poland
Finalist
Hao Rao
China
Finalist
Eva Gevorgyan
Russia/Armenia
Finalist
Hyuk Lee
South Korea
Shigeru Kawai SK-EX
Concerto Award
Martin Garcia Garcia
Sonata Award
Alexander Gadjiev
Mazurka Award
Jakub Kuszlik
■ About the Shigeru Kawai SK-EX full concert grand piano
Unveiled in 2001 as the flagship instrument of the Shigeru Kawai line, the SK-EX concert grand piano is hand-crafted in limited numbers following a unique 'prototyping' creation process. In order to achieve the supreme range of expression required in a concert piano, each instrument utilises a variety of carefully selected materials, with premium aged spruce soundboards. Shigeru Kawai instruments adopt the advanced Millennium III keyboard action, featuring extended wooden keys and advanced ABS Carbon action parts, providing superior speed and responsiveness than conventional wooden action parts, allowing pianists to express a greater range of feeling and emotion in their performance.